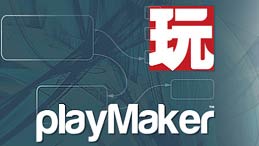 Current Version: 1.0.3, Changelog



Mad Level Manager offers PlayMaker support package, that allows to access most of API features directly from the PlayMaker.
Installation
PlayMaker support is (will be) shipped as unitypackage inside Mad Level Manager package, and as separate file available to download from our servers. Either way you have to unpack it manually to make it work.
Be sure to always have the latest version available. Be sure to look at the README.TXT file, where you can find your version number. You can check for updates on this page, or be notified if you follow us on Facebook, Twitter, or add RSS from our blog.
Current version is 1.0.3 and it's available to download here.
After downloading unpack it into your project, and that's it! PlayMaker actions should be available right on.
Action Listing
Mad Level Manager PlayMaker actions are available in two categories:
Mad Level Manager – Levels
Mad Level Manager – Profiles
Mad Level Manager – Levels
These actions are responsible for level workflow. Here's the listing:
Get Current Level Name
Get Last Level Name
Get Next Level Name
Get Arguments
Reload Current Level
Load Level By Name
Has Next Level
Has Previous Level
Has First Level
Load Next Level
Load Previous Level
Load First Level
Please look at the API if you need further reference.
Mad Level Manager – Profile
These actions are responsible for profiles and save data. Here's the listing:
Register Profile
Unregister Profile
Switch Profile
Get Profile Name
Save Profile
Reset Profile
Is Level Completed
Is Level Locked
Set Level Completed
Set Level Locked
Get Level Boolean
Get Level Integer
Get Level Float
Get Level String
Set Level Boolean
Set Level Integer
Set Level Float
Set Level String
Get Profile Boolean
Get Profile Integer
Get Profile Float
Get Profile String
Set Profile Boolean
Set Profile Integer
Set Profile Float
Set Profile String
Please look at the API if you need further reference.
Example
If you're not sure how to use Mad Level Manager with PlayMaker, you can download example package. We're using it for our development process to test if everything is working as expected, but it can help you understand how things should be configured.
Last update: 12/23/2013
Feature Request & Bugs
Please remember that no software is bug-free. If you found a bug or want to do a feature request, please write to us.
Changelog
1.0.3 (12/27/2013)
For Mad Level Manager 1.3.0 or above
Added action Get Profile Name to get current profile name
Fixed Get Level Integer description
1.0.2 (12/16/2013)
For Mad Level Manager 1.3.0 or above
Some actions were not returning storeResult
1.0.1 (12/06/2013)
For Mad Level Manager 1.3.0 or above
Forgot to change using directive from

NAMESPACE

to MadLevelManager
1.0 (12/05/2013)
For Mad Level Manager 1.3.0 or above